Our Team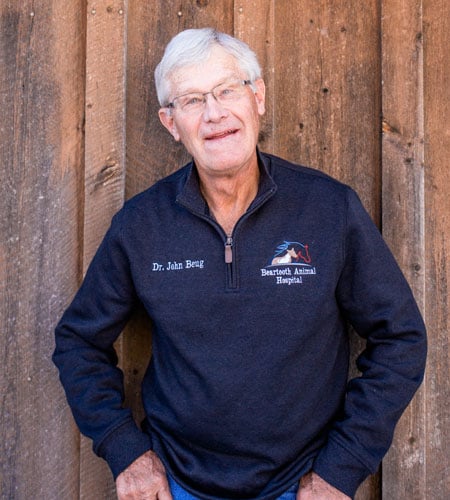 John Beug DVM
The patriarch of the current veterinary family at Beartooth Animal Hopsital, Dr. Beug and his wife Sue landed in Red Lodge in 1974. As a graduate of Colorado State University, Dr. Beug started his career at Littleton Large Animal Hospital in Denver, CO with Dr. Marvin Beaman. He spent a little time in South Dakota saving pigs, cows and horses prior to settling in Red Lodge. Although regarded as the premier equine veterinarian in the area, Dr. Beug's career crossed paths with many species of zoo animals, pets, wildlife and even primates. As a highly respected equine veterinarian, Dr. Beug and his cohort Dr. Lamb, provided the veterinary services for the National Finals Rodeo for many years. Dr. Beug has been inducted into the Montana Pro Rodeo Hall and Wall of Fame in recognition for his excellence in the equine industry, from a competitive rodeo athlete to a successful member of the Montana Cutting Horse Association and his service as Montana's national delegate to the American Veterinary Medical Association. We are proud to continue the legacy that Dr. Beug forged here in Red Lodge, MT.
---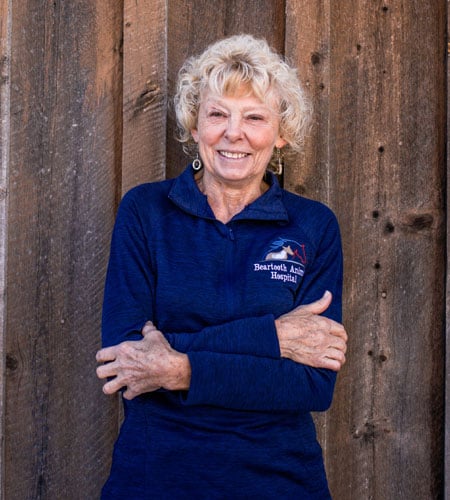 Sue Beug
As the wife of Dr. Beug, Sue was an instrumental partner in the creation of the veterinary clinic, and thankfully, she is still helping us with her many years of anesthesia experience, client compassion and overall love of all pets. Sue and John raised 2 boys, Justin and Jason, who are successful in their own careers, and we enjoy their company when they return for family visits. We are extremely thankful for all the tasks that Sue helps with. She is truly one of the important people behind scenes that make the magic happen. Sue enjoys being an ambassador for conservation and is actively involved in Northern Plains Resource Council. Sue also serves an especially important purpose within our community through her volunteer work with the local hospice care and domestic violence services. We find ourselves fortunate to be in the company and companionship of Sue Beug.
---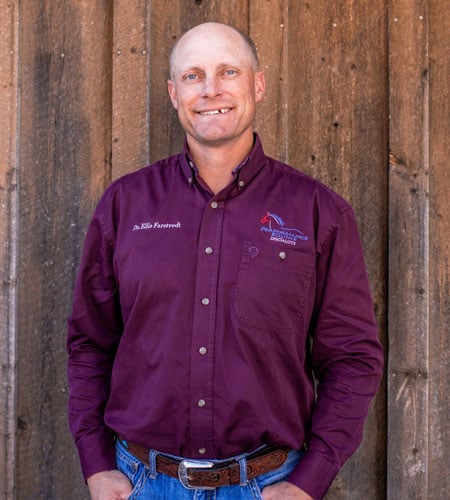 Ellis Farstvedt DVM, MS, Boarded Surgeon
Dr. Ellis and his wife Dr. Holland are the current owners of Beartooth Animal Hospital. Dr. Ellis is an Oregon State University graduate (Doctor of Veterinary Medicine '01); a Colorado State University graduate (Masters in Clinical Sciences '05); and Boarded by the American College of Veterinary Surgeons ('06). Dr. Beug and Dr. Ellis first met in Bozeman at Copper Spring Ranch. At the time Dr. Ellis was helping build the veterinary surgical, reproduction and sports medicine center at that ranch. Business and life moved forward in a manner that allowed Dr. Ellis to move to Red Lodge and facilitate the growth of equine surgical options offered in Red Lodge. 12 years after meeting Dr. Beug, Dr. Ellis was offered a chance to start Beartooth Animal Hospital at the original site of Dr Beug's veterinary practice. We have taken on the challenge and will succeed in carrying on the legacy of Dr. Beug and all of his contributions to this community.
Dr. Ellis and his wife also own and operate Performance Equine Specialists. They started this practice in 2008 as a seasonal equine sports medicine service for the winter migration of equine athletes to Arizona. This practice has become an integral part of the veterinary services in Arizona for seasonal visitors and specializes in lameness diagnostics, treatments, farrier consultations and surgical solutions..
Dr Ellis enjoys serving in the 4th Degree Order of the Knights of Columbus, being a parent volunteer with BSA Scouting, and guiding hunters in the fall.

---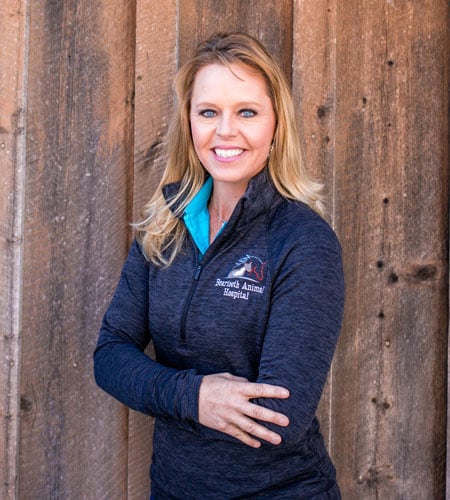 Mandi Holland DVM, Certified in Veterinary Medical Acupuncture
Dr. Holland and her husband Dr. Ellis are the current owners of Beartooth Animal Hospital. A 2004 veterinary graduate from Colorado State University, Dr. Holland began her career at San Luis Rey Equine Hospital in Bonsal, CA then transitioned to Turf Paradise Racetrack in Phoenix AZ where she joined Dr. Mark Anderson's practice.
Dr. Holland has since worked in every aspect of racetrack practice but particularly enjoys lameness, treatment of performance limiting conditions, and advocating for the horse. While in Montana, Dr. Holland compliments our practice in Red Lodge with her compassion for helping small animals as well as continuing her equine work.
Dr. Holland's community involvement is rooted in her lifelong enthusiasm for rodeo. She is an alumni of the Montana State University Rodeo Team (96-00) and represented our state as Miss Rodeo Montana in 2000. Dr. Holland continues to serve in the rodeo community as a board member for youth rodeo (Tomorrow's Rodeo Champions), she is the Royalty Director for the Red Lodge Home of Champions Rodeo, and competes as a breakaway roper.

---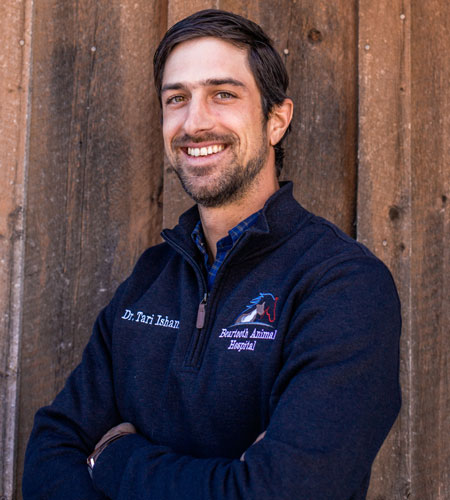 Tarek "Tari" Isham DVM, Certified in Veterinary Medical Acupuncture
Dr. Isham joined us from the UC Davis School of Veterinary Medicine ('20). Prior to his arrival to Beartooth Animal Hospital he traveled the country with the non-profit group RVETS. Through this non-profit involvement he was able to provide expertise and veterinary services to underserved areas across the US and Central America. Being relatively new to the profession is a great advantage for our practice to keep current and offer the latest treatments available. Dr. Isham has a truly kind and compassionate approach to his patients. As the latest addition to our professional family, we have enjoyed seeing Dr. Isham's successful practice of veterinary medicine.
Dr. Isham's community involvement centers around his passion for music. As a one-man band incorporating acoustic and electric guitars, harmonica, drums and vocals he can be found at various venues around Red Lodge and his hometown of Clyde Park.

---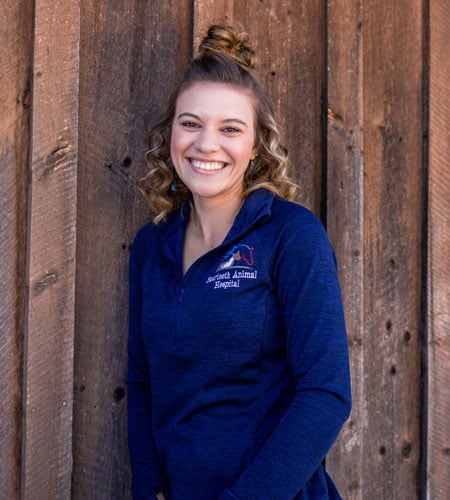 Heather Graber
Heather Graber joined Dr. Beug's practice and met Dr. Ellis as he performed referral services for practice over the years. When Dr. Ellis and Dr. Holland started Beartooth Animal Hospital, Heather was an integral part of that decision and plays an important role for our hospital. Heather oversees day to day operations at Beartooth Animal Hospital, and her multiple talents have served our group well. She is integrated into all aspects of Beartooth Animal Hospital and has an unwavering commitment to making sure our patients have successful outcomes and our clients have all the support they need to be comfortable with our services. We are proud to have her as part of team.
---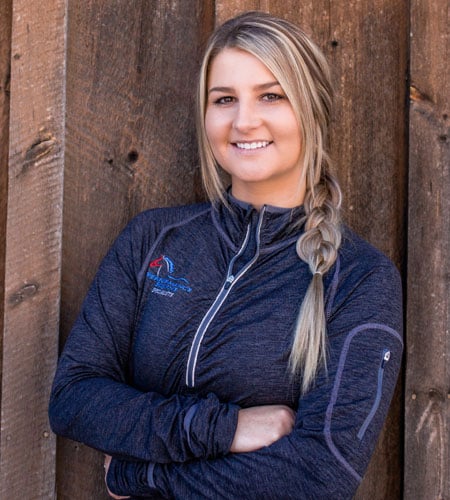 Hannah Wollenburg
The newest addition to our team of professionals is Hannah. She joined us in the fall of 2020 for a rotation on the Arizona circuit with Performance Equine Specialists. As a native of Red Lodge, she grew up in this community. In her spare time, Hannah enjoys barrel racing and helping her family with ranch work. We welcome Hannah to our team and look forward to providing her an opportunity to be successful with us.